---
N E W S:

Kana Theatre Szczecin
8., 9. Jan 15
Junges Theater Göttingen
5., 6. Feb 15
Schauspiel Leipzig
10., 11. Apr 15
HELLERAU – European Center for the Arts Dresden
17., 18. Apr 15
zeitraumexit Mannheim
24., 25. Apr 15
Archa Theatre Prague and Goethe-Institut Prague
Fall 15 (dates tbc)
Special location:
former Czechoslovakian parliament
---
Operettokratie (special edition of ThAEtrocracy)

Komische Oper Berlin
Operettensymposium
2. Feb 15, 5pm
The operetta is an ambiguous genre between high and low culture, between entertaining nonsense and cultural criticism. Karl Kraus loved it, Adorno hated it. We'll continue this battle and check how fit for the future this lost genre might be. The audience will prove it: using live-voting they'll be able to determine the future of the operetta. Performance meets Operetta! Singing guaranteed.
BY AND WITH Nina Tecklenburg, Lajos Talamonti, Verena Unbehaun, Till Müller-Klug and Dorothea Schmans DRAMATURGIE Johanna Wall STAGE DESIGN Sandra Fox VIDEO Florian Fischer
---
To Like or Not To Like. A Big Data Game
Residency for our new project
Schauspiel Leipzig
April – May 15
---
Preenactment series / Doppelpass
For the 2012/13 and 2013/14 seasons we are testing a new performance format: the Preenactment. Different to the backward-looking idea of reenactment, the Preenactment explores exemplary present-day phenomena and, using performance and theatrical means, transposes them into the future. Current political and social tendencies, that effect our daily life are thus amplified, exaggerated and together with the public acted out and tested in a communicative set-up – the future as experience. The Preenactment series is part of our Doppelpass-partnership together with Sophiensæle Berlin.
---
Performing Stories – Out Now!
Nina Tecklenburg's book about new narrative practices in performing arts is out.
It's called Performing Stories and you can buy it here.
.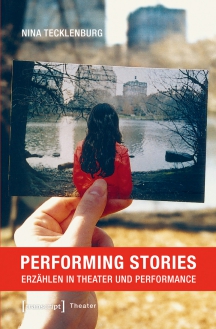 an den Anfang der Seite