Total Therapy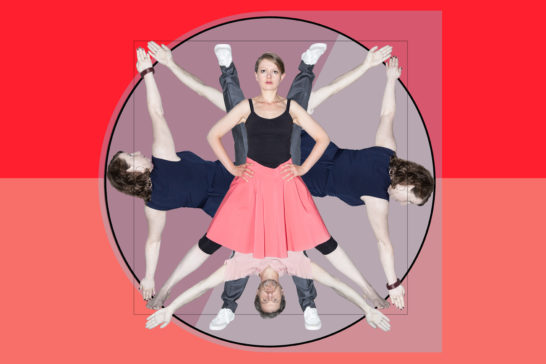 In Total Therapy the audience becomes a microcosm whose members undergo an enticing therapy parcours: rating games open the doors to permanent evaluation and analysis, individual psychological profiles can be created and personality altering measures are dared and tried out. A performative balancing act that invites you experience the political and social power structures behind therapy.
---
Galery
---
Credits
Duration 120 Min. Concept Interrobang By and with Bettina Grahs, Lisa Großmann, Kaja Jakstat, Elisabeth Lindig, Till Müller-Klug, Lajos Talamonti, Nina Tecklenburg Stage, Costume Silke Bauer Music Friedrich Greiling Light Design, Technical Director Dirk Lutz Production ehrliche arbeit – freies Kulturbüro PR Tina Ebert Intern Miriam Bach Photos Renata Chueire, Paula Reißig Photo Collage Silke Bauer
A production by Interrobang in coproduction with Schauspiel Leipzig, WUK Performing Arts Wien and SOPHIENSÆLE. Funded by the Senate Department for Culture and Europe and the Konzeptionsförderung of Fonds Darstellende Künste e.V.
---
Dates
Sophiensaele Berlin
Premiere: 13th of November 2018, 5pm and 9pm
further shows: 14th of November 2018, 5pm and 9pm
Festival "Save Your Soul"
Residenz Schauspiel Leipzig
11th – 18th of April 2019
WUK Wien
Dates tbc
an den Anfang der Seite